Registration
Preconference registration is now closed.
You are welcome to complete the registration form and bring it to our on-site registration desk in Chicago!
On-Site Registration Hours:
Saturday, April 6, 7 a.m.– 9 p.m.
Sunday, April 7, 7 a.m.–6 p.m.
Monday, April 8, 7 a.m.—6 p.m.
Tuesday, April 9, 7 a.m. – noon
If you require immediate assistance, please e-mail us at confreg@cof.org or call 703-879-0750.
Cancellations
All Annual Conference registration cancellations must be submitted in writing. Fax your cancellation to 703-879-0800 or 703-879-0802 or e-mail to
confreg@cof.org
.
Cancellation fees will be as follows:
Cancellation through February 22, 2013: Full refund minus $150 administrative fee
Cancellation after February 22, 2013: No refund available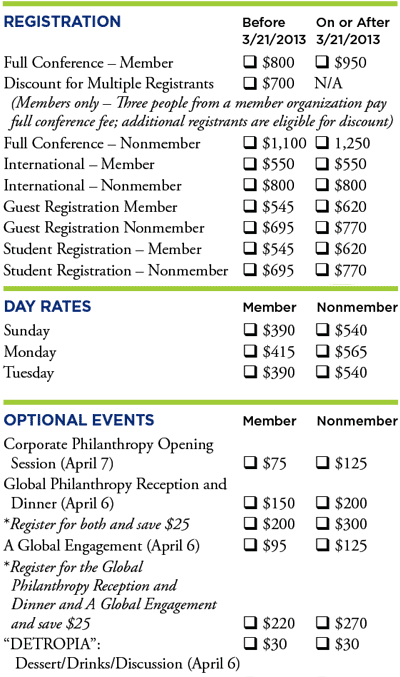 Hotel Reservations
Hilton Chicago
720 South Michigan Avenue
Chicago, Illinois, 60605
Reserve a room online
or call 877-865-5320 and say you are attending the 2013 Council on Foundations Annual Conference.
View room rates and hotel cancellation policies.