Off-Site Sessions

Experience the Power and Impact of Chicago's Philanthropy
Register online to attend off-site sessions. Registered attendees can pick up tickets at the Conference Registration Desk during the conference.
Space is limited, so be sure to register early!
A River Runs Through It: Using the Chicago River to Investigate Environment, Race, Class, Geography, and Urban Development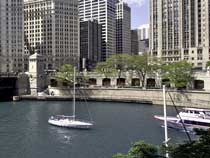 Sunday, April 7, 2–5:30 p.m.
The 156-mile Chicago River is best known for its scenic architectural boat tours and being dyed green on St. Patrick's Day. But it tells a far more complex and powerful story of Chicago's divisions along race, class, and geographic lines. Join us and discover how private philanthropy has played a critical role in everything from commerce and transit development to environmental justice along the river.
Community Design and Problem-Solving Case Study: Lurie Children's Hospital
Monday, April 8, 9:45 a.m.–1:15 p.m.

A visit to Lurie Children's Hospital is a unique opportunity to see how community partners collaborated to build a state-of-the-art medical facility that meets the needs of its myriad users and creators—designers, architects, community leaders, philanthropists, cultural institutions, medical professionals, government, the children/patients themselves, etc. See how the hospital's partners made thoughtful decisions that impacted the layout and design of the space, and hear how those decisions evolved. The visit will culminate in a panel discussion to emphasize how you can apply the same problem-solving techniques to address the needs of your community, whatever those needs may be.



(photo from chicago.curbed.com)
Museums of Conscience: Where Art and History Intersect
Connecting Hope and Opportunity in North Lawndale and Pilsen
Monday, April 8, 2–6 p.m.

Participants will travel to North Lawndale for a visit to one of the neighborhood's strongest institutions, North Lawndale College Prep. Student ambassadors will provide a tour and discuss how the school's focus on inspiring young African-American men is impacting their futures and their families. Next is a visit to Pilsen, a predominantly Latino community that's the home of the Mexican Fine Arts Museum. Nonprofits are highly concentrated in this community, which fosters collaboration with the museum as the hub. Panel discussions during this session will focus on youth development, women and violence, and other relevant topics.



(photo from nlcphs.org)
The Poetry Foundation—The Story of a Legendary Gift
Monday, April 8, 2:30-5 p.m.

Poetry magazine, founded in Chicago 100 years ago, received an unsolicited $200 million gift from admirer Ruth Lilly in 2002. Visit the foundation's beautiful new building and learn how the board and staff built an organization capable of making the best use of this extraordinary bequest.



(photo from poetryfoundation.org)
Leveraging Technology to Mobilize Community
Monday, April 8, 4:30-6 p.m.
As we continue to use technology and social media as a major communication strategy, there are lessons being learned across the sectors. This session offers a unique opportunity to hear three different perspectives: Harper Reed's experience running a social media presidential campaign, Lila King's platform as she leads the social media strategies to support CNN news, and Michael Smith and the Case Foundation's efforts to develop strategic tools to build community.
This session takes place at the Harold Washington Library Center (400 S State Street) in the South Hall. Please proceed to the Plymouth Court entrance of the Library. The elevator will take you to the ninth floor. If you would like to join the group to walk over together for this session, please meet in the lobby of the hotel at 4:00 p.m.
Chicago is a Great Theater Town—What Does it Take and Who Made it Happen?
Tuesday, April 9, 9:30 a.m.-12 p.m.
Visit Chicago's iconic Steppenwolf Theater and hear from the artistic directors at three of Chicago's theatrical treasures—Steppenwolf, TimeLine (theater of the year in the Wall Street Journal), and Teatro Vista (the city's leading Latino-focused company). What's the city's secret to becoming a great theater town and how did philanthropy help? The discussion will be moderated by Chris Jones, theater critic of the Chicago Tribune.