Attendee Registration
How to Register
Preconference registration is now closed. You can still register on-site by visiting the registration booth in Storyville Hall on Level 3 at the Hyatt Regency New Orleans.

Registration Hours:
Sunday, 3-6 p.m.
Monday, 7 a.m. - 6 p.m.
Tuesday, 7 a.m. - 6 p.m.
Wednesday, 7 a.m.- 12:30 p.m.

---
Cancellations
All cancellations must be submitted in writing by August 3, 2012. No refunds will be issued for requests received after that date. Fax your cancellation to 703-879-0800 or 703-879-0802 or e-mail to
confreg@cof.org
.
Cancellation fees will be as follows:
Cancellation through August 3, 2012
Full refund minus $150 administrative fee
Cancellation on August 3, 2012, or after
NO refund available
---
Multiple Registration Discount
If your organization is a member of the Council on Foundations and three people from your organization pay the full conference fee ($750), additional members of your organization who register at the same time as the first three will receive the multiple registration discount ($650). Registration forms and payment must be received by August 3, 2011.
---
Guest and Student Registration
Guest registration is available for spouses and partners of full conference attendees and includes all meals, plenary sessions, and the networking event.
Students and recent graduates from accredited educational institutions may be eligible to attend our conference for a special student rate that includes access to all conference programming.
Students should complete the registration process and include a letter with area of study, anticipated graduation date, and the reason for attending the conference. Students who are affiliated with an organization that is a Council member should register through the organization.
---
Affinity Groups
The Council is pleased to extend the member rate to all members of Council-recognized affinity groups, whether they are Council members or not. Additionally, the Council will pay Council-recognized affinity groups $100 for every registered Fall Conference participant who is one of their members but not a Council member and who registers for the conference using the appropriate discount code. If your foundation would like to take advantage of this initiative and if your foundation is a member of a Council-recognized affinity group but not a member of the Council, please contact your affinity group to receive the appropriate discount code.
---
Pending Member
Nonmembers must pay nonmember registration fees. Pending membership applications or applications sent with the registration form do not qualify for registration at the member rate. If you pay the nonmember fee for the conference and your Council membership is approved by December 31, 2012, the difference between member and nonmember conference fees will be credited toward your organization's dues payment. Please call the Membership Services staff at 703-879-0645 for more information.
Pricing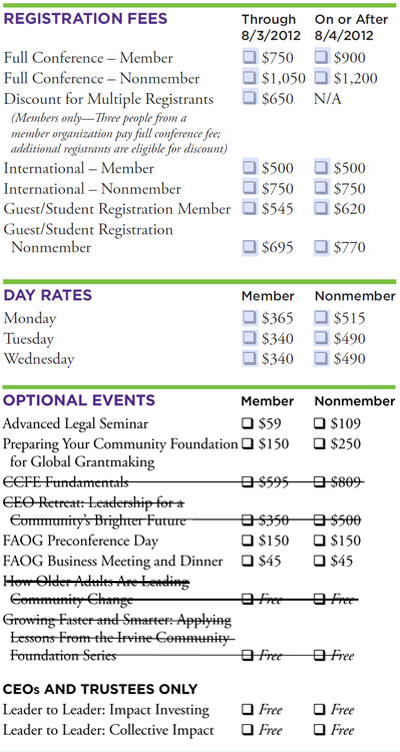 ---
Conference Session Recordings
Bring the conference home with you for training, reviewing sessions, or to share with those unable to attend. We offer the opportunity to purchase mp3 multimedia recordings that include audio recordings of conference sessions. Session PowerPoint and resource materials, an exhibitor/sponsor list, and important information about the Council are also included. In addition, resources will be available on the Web at the Live Learning Center. Order conference recordings through
online registration
.
Pre-conference Orders - $159
Onsite Orders - $179
Post-conference Orders - $329
---
Hotel Reservations
The 2012 Fall Conference for Community Foundations is taking place at the:
Hyatt Regency New Orleans
601 Loyola Ave., New Orleans 70113
$175 single/double*
*Plus 13 percent tax and $3 occupancy charge per room.
Make your
reservations online
or call 504-561-1234.
The hotel rates are available three days before and three days after the conference dates based on rate and date availability. The reserved block of rooms and special rates will be held until August 17, 2012. After August 17, reservations will be subject to availability and might not be available at the conference rate. ROOMS MAY SELL OUT BEFORE August 17.
---
Hotel Cancellations
A hotel reservation confirmation will be sent to you directly from the hotel.
Your one nights deposit will be forfeited as your cancellation fee if you cancel your reservation less than 72 hours prior to your scheduled day of arrival. Should you change your departure date after check-in to an earlier date, you will be assessed an early departure fee of one night room and tax.