Awards Highlights
Distinguished Grantmaker Award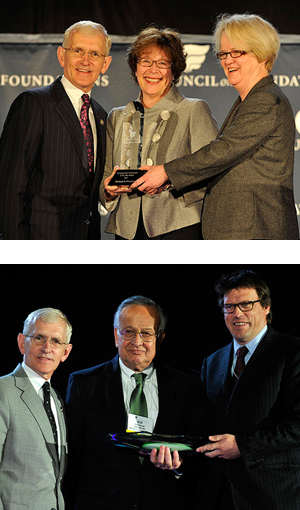 Kathryn Merchant, president and CEO of The Greater Cincinnati Foundation, received this year's Distinguished Grantmaker Award—the Council's premier award. Merchant is a leader in philanthropic efforts that strengthen communities in the tri-state region of Ohio, Kentucky, and Indiana, overseeing the foundation's charitable and grantmaking efforts in such areas as community and economic development, health, and the environment. She is widely recognized in the Greater Cincinnati region for her leadership in community development, cradle-to-career education, and workforce development initiatives.

Merchant also serves as executive committee chair of the Strive Partnership, a group of education, community, civic, and philanthropic leaders working to improve every child's educational opportunities in Greater Cincinnati. She previously directed The Pew Charitable Trusts' Neighborhood Preservation Initiative and served six years on the Council's board.


Newman's Own Award
Johann Olav Koss
, an Olympic speedskating champion from Norway, received the first Newman's Own Award and $50,000 to help his Right To Play Foundation fulfill its mission on behalf of children in war-torn countries. Koss was clearly moved by his selection, calling it an exceptional honor.
Koss chose to start his foundation because he "realized that the barriers to play for these children were so huge that their childhood was being taken from them." The simple act of giving them a soccer ball and watching them kick and throw it unlocked a sea of smiles.
Right To Play works in 20 countries, coaching teachers and leaders and reaching more than one million children every week. "I tell these children that there are people around the world who are thinking about them and who know how much they are suffering," Koss said. "This award goes to everyone who believes that every child has a right to develop into a whole human being."
The late actor and philanthropist
Paul Newman
started a food company on a lark 29 years ago, said board member
Bob Patricelli
before introducing Koss, and was horrified when it made money. He decided to give all profits to charity, and since then Newman's Own has given away more than $300 million.
Wilmer Shields Rich Awards
Another highlight of the conference was the special ceremony honoring the recipients of the Wilmer Shields Rich Awards for Excellence in Communications. The winning entries showcase great ways to communicate effectively—using the right vehicle and the right message at the right time—that encourage others to think and act in ways that support their foundations' missions. A
complete list of recipients
is posted on the conference website.