Van Leer Lecture Series
Sunday, April 10 - 6-7 p.m.
The lecture is free and open to conference attendees. Separate registration is not required.
Professor Nathaniel Laor, who is also a medical doctor, will give this year's Van Leer lecture. Dr. Laor will explain the harrowing impacts of violence in children's lives and how to build resilience among young children in militarized societies and among children exposed to natural disasters. The lecture is in partnership with the Van Leer Jerusalem Institute and the Bernard van Leer Foundation and is free and open to conference attendees. The annual Van Leer Lecture Series is designed to increase your awareness of issues affecting the global community and the role foundations play in addressing those concerns.


Presenter: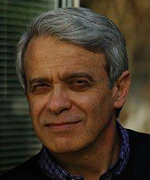 Nathaniel Laor
Director, Cohen-Harris Center for Trauma and Disaster Intervention, Tel Aviv University
Laor is one of the world's leading experts in the traumatic impact of disasters on children, families, and communities. He has developed a unique perspective concerning the revitalization and reactivation of whole communities by immediate interventions, individual psychotherapy, parent-child group interventions, and school reactivation and whole community programs. It has been translated into scientific empirical research, theoretical developments, and the implementation of multi-disciplinary interventions. This model of intervention is currently serving as a resource for communities in Israel and other countries. Laor is also clinical professor at Yale Child Study Center and co-led the Centerís international child program.

For more information:
Isabelle Mack
Operations Manager, Global Philanthropy Program
Council on Foundations
E-mail:
isabelle.mack@cof.org
Phone: 703-879-0747