Preconference Programming
Separate registration is required for these sessions. Space is limited.
Register now.
---
CEO-Trustee Workshop—Leadership in a (Permanent) Crisis
Saturday, April 9 – Sunday, April 10
$149 members, $249 nonmembers
Are you waiting for things to return to normal in your organization? Sorry. Leadership will require new skills tailored to an environment of urgency, high stakes, and uncertainty—even after the current economic crisis is over. The CEO-Trustee workshop, led by
Marty Linsky, CLA co-Founder and Harvard Kennedy School faculty
, will introduce participants to "adaptive leadership" where foundation leaders will learn how to foster adaptation, embrace disequilibrium, and generate leadership. Case studies also will be presented during the program by executives from the W.K. Kellogg Foundation, the Rockefeller Brothers Fund, and the California Endowment . The workshop will provide strategies for bringing change back to your foundation. It will provide practical applications on how to adapt and thrive in challenging environments. This must-attend event will offer CEOs and trustees opportunities to engage in stimulating learning exchanges with peers. Space is limited, so register early to join foundation leaders from across the nation for two days of peer learning, in-depth discussions, and networking.
Download the agenda.
---
Essential Skills and Strategies
Saturday, April 9 – Sunday, April 10
$399 members, $499 nonmembers
This comprehensive two-day orientation for new grantmakers covers such topics as foundation stewardship and accountability, grants management, and the financial and legal aspects of grantmaking. You'll broaden your understanding of philanthropy, learn about best practices for ethical and effective grantmaking, and acquire new skill-building tools.
Download the agenda.
---
Saturday April 9 - 6-8:30 p.m.
$110 members, $150 nonmembers
Colleagues who share a global grantmaking perspective will gather for a reception and dinner hosted by the Council on Foundations Global Philanthropy Committee. Alec Ross, senior adviser on innovation to Secretary of State Hillary Rodham Clinton, will discuss "Egypt and Beyond: Philanthropy's Role." Former U.S. Sen. Harris Wofford (D-Pa.), a co-founder of the Peace Corps, will discuss the organization's 50th anniversary.
In addition, the
Henry Hampton Award
will be presented to
Budrus
—which will be shown in its entirety after the dinner. This inspiring, powerful, and action-filled documentary chronicles the activities of Ayed Morrar, an unlikely community organizer, who unites Palestinians and Israelis from all political factions to save his village from destruction by Israel's Separation Barrier. Attendees will have the opportunity to meet the filmmakers and discuss Budrus after the screening.
---
More Than Charity—The Path Forward for Corporate Philanthropy
Sunday, April 10 - 8-11 a.m.
$75 members, $125 nonmembers
How can corporate philanthropy mobilize the resources needed to address our profound social challenges? Explore this question during this preconference session, and help shape the path forward for corporate philanthropy.
---
Affinity Group Activities
Saturday, April 9 – Sunday, April 10
Join your favorite affinity groups as they host their annual membership meetings, conferences, and other events during the Council's preconference activities. Also, be sure to make history with the Association of Black Foundation Executives (
ABFE
), as it celebrates its 40th anniversary, and Emerging Practitioners in Philanthropy (
EPIP
), which is celebrating its tenth!

Special Registration Package
Save 20% when you purchase the Global Philanthropy Dinner and Reception and the More than Charity-The Path Forward for Corporate Philanthropy preconference sessions together.

Space is limited. Register now.
Ongoing Education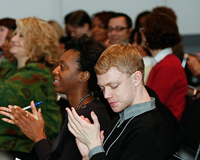 Professional development doesn't just have to happen at conferences. Check out Council seminars and webinars taking place throughout the year.