In Decline or Just Shifting? The News Media and Philanthropy
Monday, April 11 - 7:30-9 a.m.
By Expanding Local News Coverage, Huffington Aims to Fuel Solutions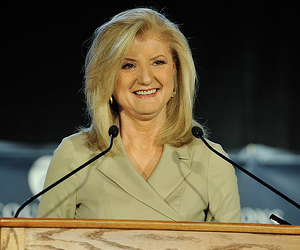 Arianna Huffington wants to reinvent news coverage in local communities. The author, commentator, and media empress told a rapt audience at Monday's breakfast plenary that "we have reached a moment in history where we are at a tipping point. There's something in the zeitgeist that allows us to bring change to scale."

The recent sale of the Huffington Post to AOL is a perfect example of this phenomenon. With her new venture, she aims to create "digital newspapers" in 900 communities and use social media to influence what's happening at the local level and empower readers to solve problems. Toward that end, the Huffington Post has hired newly minted journalists, giving them mentors and funding their work. On these local news sites, viewers not only will be able to read articles on community issues and events, but they'll also be able to link to local philanthropic and community organizations so they can find ways to act.


"What's missing from the world is not intelligence but wisdom." -Arianna Huffington
"The Internet has provided us with a 24/7 ability to tap into so many things," Huffington said. "The news has become actionable, not just something to watch passively."
She continued: "In Washington, we see dysfunction and gridlock, but at the local level we see people working together to make things happen. Instead of gravitation toward the sensational and what's not working, the media can help us bring these good works to scale."
One of humanity's great instincts—in addition to survival, sex, and power—is the instinct to find community, Huffington said. "Those of us in the media need to find ways to feed this," she added, "instead of feeding the fear-mongering, separation, and division that's so prevalent today."
She asked listeners to imagine what we'd have if the breaking news on TV was not about "Balloon Boy" but instead about what is happening to people in local communities. "What's missing from the world is not intelligence," she concluded, "but wisdom." Have an idea or question? She wants to hear from you at
arianna@huffingtonpost.com
.