How to Register
Registration forms received without payment cannot be processed. For questions about registration, please call 703-879-0750.
Online registration is now closed. Please register onsite.
ONSITE REGISTRATION OPENS SATURDAY, APRIL 9:
Register onsite in Philadelphia
Franklin Hall B, 4th Level
Saturday, April 9 - Noon-6 p.m.
Sunday, April 10 - 7 a.m.-6 p.m.
Monday, April 11 - 7 a.m.-6 p.m.
Tuesday, April 12 - 7 a.m.-Noon
If you are a sponsor or exhibitor, see the sponsors and exhibitors registration page for registration details.
---
Confirmations
Confirmations will be e-mailed within 10 days of receipt.
Please remember to include your e-mail address on your registration form to receive registration and hotel confirmations. Because of the high volume of registrations, the Council is unable to confirm conference registration by phone. To guarantee inclusion in the conference directory of participants, the Council must receive your completed registration form by March 25, 2011. After making your online credit card reservation, an instant confirmation will follow.
---
Cancellations
All Annual Conference registration cancellations must be submitted in writing. Fax your cancellation to 703-879-0800 or 703-879-0802 or e-mail
confreg@cof.org
.
Cancellation through February 25, 2011:
Full refund minus $150 administrative fee
Cancellation February 25 or after:
No refund available
---
Multiple Registration Discount
If your organization is a member of the Council on Foundations and three people from your organization pay the full conference fee ($800), additional members of your organization who register at the same time as the first three will receive the multiple registration discount ($700). Registration forms and payment must be received by February 25, 2011.
---
Affinity Groups
The Council is pleased to extend the member rate to all members of Council-recognized affinity groups, whether they are Council members or not. Additionally, the Council will pay Council-recognized affinity groups $100 for every registered fall conference participant who is one of their members but not a Council member and who registers for the conference using the appropriate discount code. If your foundation would like to take advantage of this initiative and if your foundation is a member of a Council-recognized affinity group but not a member of the Council, please contact your affinity group to receive the appropriate discount code.
---
Pending Member
Nonmembers must pay nonmember registration fees. Pending membership applications or applications sent with the registration form do not qualify for registration at the member rate. If you pay the nonmember fee for the conference and your Council membership is approved by December 31, 2011, the difference between member and nonmember conference fees will be credited toward your organization's dues payment. Please call the Membership Services staff at 703-879-0645 for more information.
---
Meals
Meals are covered in your full conference registration fee. Sunday includes lunch. Monday includes breakfast, lunch and the networking event. Tuesday registration includes breakfast and lunch. There will be a limited number of extra meal tickets available at the registration desk for individuals who are eligible for conference attendance.
Pricing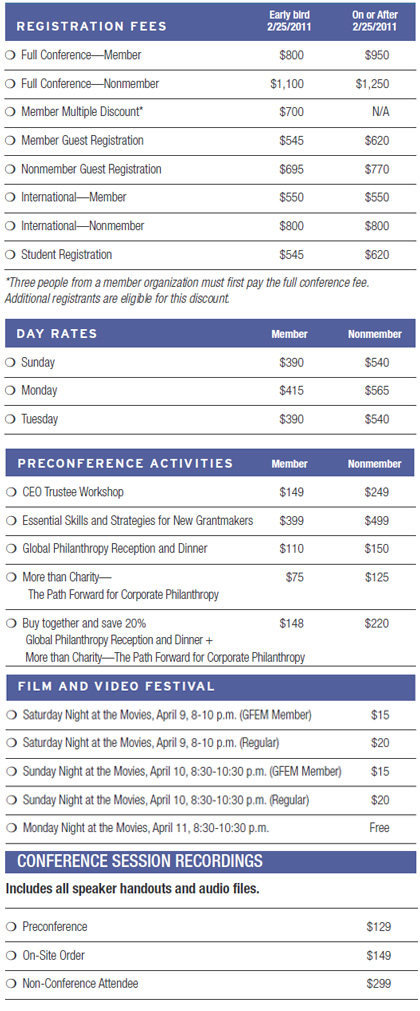 ---
Hotel Reservations
The Annual Conference will be held at the Philadelphia Marriott Downtown, 1201 Market Street, Philadelphia, PA 19107.
Standard single/double guest rooms are available to meeting attendees for the special Council on Foundations conference rate of $228* per night for a single room or $248* per night for a double room.
*Taxes NOT included in price.
You can make hotel reservation through Marriott
online
. You may also call PASSKEY directly at 800-266-9432.
The hotel rates are available three days before and three days after the conference dates based on rate and date availability. The reserved block of rooms and special rates will be held until March 16, 2011. After March 16, reservations will be subject to availability and might not be available at the conference rate. ROOMS MAY SELL OUT BEFORE March 16.
---
Hotel Cancellations
A hotel reservation confirmation will be sent to you directly from the hotel.
Your one nights deposit will be forfeited as your cancellation fee if you cancel your reservation less than 72 hours prior to your scheduled day of arrival. Should you change your departure date after check-in to an earlier date, you will be assessed an early departure fee of one night room and tax.