Off-Site Sessions Highlights
Monday, April 11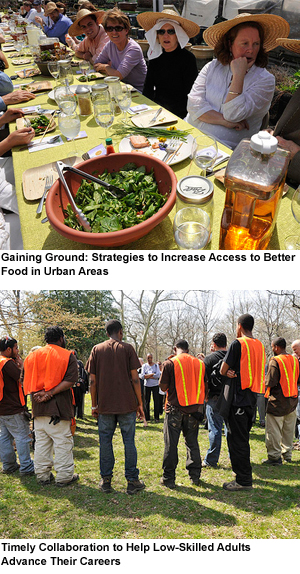 Attendees Gain Insight Into Philanthropic Partnerships at Off-Site Sessions
Many conference attendees chose to attend one of 10 off-site sessions in the Greater Philadelphia area. The excursions highlighted the work of foundations and grantmakers in addressing various community challenges.

For example, one session explored education reform by visiting a city school that is working to close the attainment gap between different groups of students. Another explored a workforce collaboration aimed at helping vulnerable adults onto career and educational pathways. A third toured economically diverse neighborhoods to see how foundations and nonprofits are using the arts to drive economic development.

An excursion to the Central Delaware Riverfront and the Navy Yard included presentations from Delaware River Waterfront Corp. officials involved in redevelopment waterfront efforts. Begun in 2006, the ambitious project aims to revitalize a six-mile stretch of the Delaware River by creating new parkland, surmounting the I-95 barrier that constricts access to the area, and spurring commercial and residential development.

Kick-started by the William Penn Foundation and shepherded through a partnership with the University of Pennsylvania, the $700-million effort has required cooperation from a multitude of constituents. The foundation provided funding for the master plan, advocated for it locally and statewide, and funded early project designs and the work of other nonprofits involved in the project. Visitors were guided on a walking tour of the area on a warm, sun-spangled day.